Hanukkah
5:00 p.m. - Crafts, activities, bouncy houses, and Hanukkah songs
5:45 p.m. - Minyan
6:10 p.m. - Light the candles and enjoy a latke dinner (and sufganiyot, of course). Bring your own menorah to light.
Cost: $5.00 per person (Kids under age 12 eat free.)
Please RSVP below by November 30.
This is event is funded by the Jewish Heritage Fund Endowment.
If the registration form does not load fully, please click here to register. Our apologies for any inconvenience.
Tue, November 28 2023
15 Kislev 5784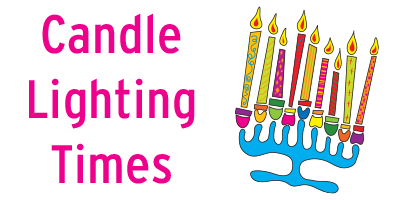 We light candles in testament that faith makes miracles possible. -Nachum Braverman
The core ritual of the eight-day Hanukkah holiday is the lighting of the menorah, or hanukkiah. This nine-stemmed menorah is lit each evening of the holiday after sunset, with one candle added each additional night.
Prior to lighting the candles each night, a series of blessings are recited. Most nights, you may light the candles at a time of your choosing, but on Friday and Saturday nights, the time is determined by the beginning and ending of Shabbat.
Friday, Dec. 8 (2 candles) - 5:04 p.m.
Saturday, Dec. 9 (3 candles) - 5:45 p.m.
Hanukkah Blessings
Click here for the blessings plus videos of someone saying them.
Download a printable copy here.
Tue, November 28 2023 15 Kislev 5784