Life & Legacy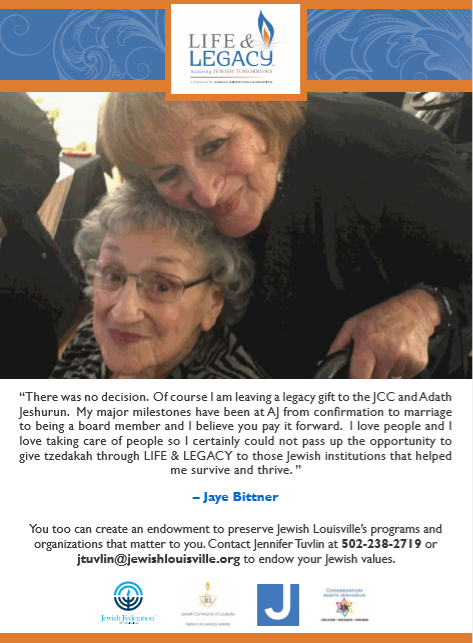 Adath Jeshurun Invites YOU To Become A Member Of The Life & Legacy Society!
Adath Jeshurun is participating in the Life & Legacy program, which makes it easy for anyone to leave a legacy. The easiest way is by simply leaving a gift to AJ in your will. If you wish to name Adath Jeshurun in your will or trust, we can help to provide the proper language to you, your attorney, your accountant, or other financial advisors, at no cost to you!
There are also ways to give which may provide you with an income for life, as well as providing tax advantages. Also, at no cost, you can modify the beneficiary designations of your life insurance policy or retirement account to include Adath Jeshurun in whole or by percentage. If you have already provided for a legacy gift to AJ, we thank you! Kindly, notify us, so that we can recognize your commitment to Adath Jeshurun's future, and include you as a member of Adath Jeshurun Life & Legacy Society.
Each one of us has the power to leave a legacy - one that fulfills our passions and dreams, and carries on the legacy of those who came before us. Please consider the importance of Adath Jeshurun in your life, and in the life of your family. You can help to ensure that the synagogue you love has the financial resources to remain vibrant and thriving for generations.
Click here to download the Life & Legacy Intent Form and become a member today!
Tue, November 28 2023 15 Kislev 5784